Republica Havas and Havas Media Miami present Meaningful Brands® 2019
MIAMI, FL | April 15, 2019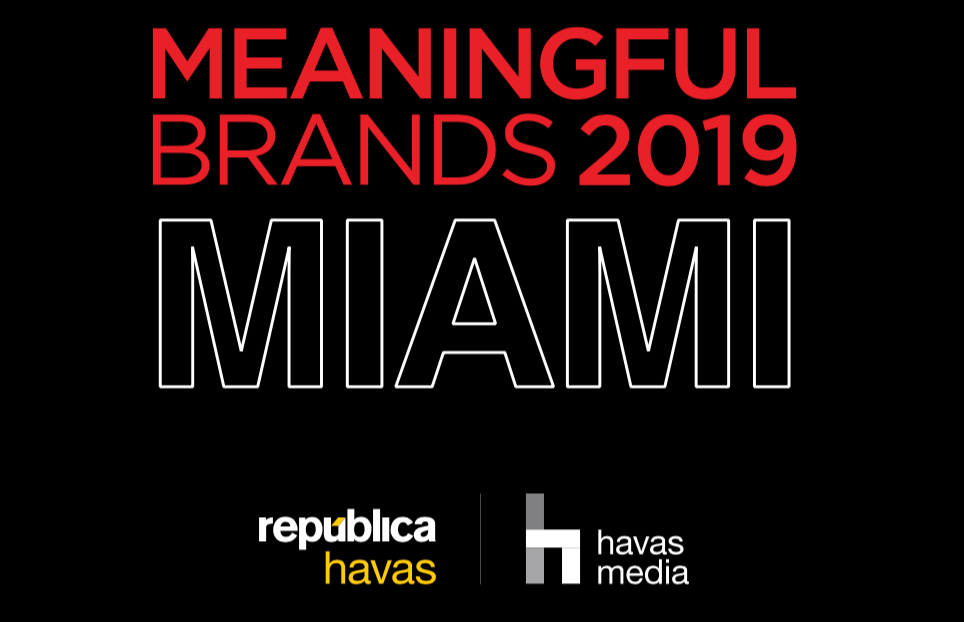 Republica Havas and Havas Media Miami presented Meaningful Brands® 2019, the Havas global study which links brand performance to people's quality of life and wellbeing. The study was launched globally in February, with live presentations in recent weeks in key cities around the world, including Singapore, Madrid, London, Mexico City, and now Miami. In addition to the global findings, the presentation included a focus on consumer insights within the U.S., U.S. Hispanic, and Latin American markets. The Meaningful Brands® Miami event gathered clients, media and partners at the historic Biltmore Hotel Miami, and featured a performance by Colombian-born, Universal Music recording artist, Greeicy.
"Our mission is to inspire meaningful connections between people and brands, and that is exactly what we wanted to accomplish with this presentation," said Jorge Percovich, CEO, Havas Group Latin America and Miami. "The key is for companies to build sustainable and relevant brand campaigns that deliver on business results," he added.
The Meaningful Brands® 2019 study was presented by Maria Garrido, chief insights and analytics officer, Havas Group, and senior vice president of brand marketing, Vivendi. The study, in its 10th year, includes more than 350,000 consumers, 22 industries, 31 countries, and over 1,800 brands across the globe. As one of the first global frameworks to connect brands with human well-being, the study measures the quality of benefits brands bring to people's lives and the returns in business terms.
"It was a thrill to have Maria, a global industry leader and an esteemed colleague, present this one of a kind, global consumer study to the Miami market," added Jorge A. Plasencia, co-founder, chairman and CEO of Republica Havas. "Having access to Meaningful Brands® is another validation of the many collaborations and opportunities that we can now afford our clients, thanks to our new chapter with Havas and Vivendi," he added.  
"Today more than ever, consumers expect companies to have a social purpose and an impact on their lives," said Maria Garrido. "Our Meaningful Brands® 2019 study goes beyond the products, exploring how brands tangibly improve peoples' lives, the role they play in society, and how meaningfulness can generate higher KPIs," she added.   
Republica Havas, Havas Media Miami, as well as public relations agency, Havas Formulatin, are part of Havas Group, a division of Vivendi. Vivendi's vast assets in media and entertainment include Universal Music Group, Canal+, Gameloft and Dailymotion.  
For more information about Meaningful Brands® 2019, visit: https://www.meaningful-brands.com/en
About Republica Havas
Republica Havas is one of America's leading and fastest-growing multicultural creative, media, and communications agencies. Through its "Rethink Relevant" strategic mantra, Republica Havas provides integrated services including strategy, creative, research, media planning and buying, analytics and consumer science, digital, public relations, social, and experiential to numerous blue-chip clients in the U.S. and markets around the world. Founded in 2006 and based in Miami, Florida, Republica Havas is the lead U.S. multicultural agency partner of Paris-based Havas Group. Havas is a division of Vivendi, a global content, media and communications group with various assets including Universal Music Group, Canal+, Gameloft and Dailymotion. For more information, visit republicahavas.com, and follow @RepublicaHavas and #RethinkRelevant on social media.
About Havas Media Miami
Havas Media Miami is the leading media specialist within Havas Media Group, focused in developing integrated media communications solutions for the Americas (U.S., U.S. Hispanics and Latin America), including strategy, content creation, digital, social media, programmatic, performance, media planning and buying, advanced data analytics, international coordination, and pan-regional media solutions, for local and international clients. Havas Media Miami was founded in 1999, and it is part of Havas Group, one of the world's largest global communications groups, and the most integrated company in its sector. Havas Group is a company of Vivendi, a world-class integrated content, media, and communications group, operating business throughout the media value chain, from talent discovery to the creation, production and distribution of content. For more information, visit havasgroup.com, or follow @HavasGroup on social media.