Havas Group invests in US-based leading multicultural marketing agency, Republica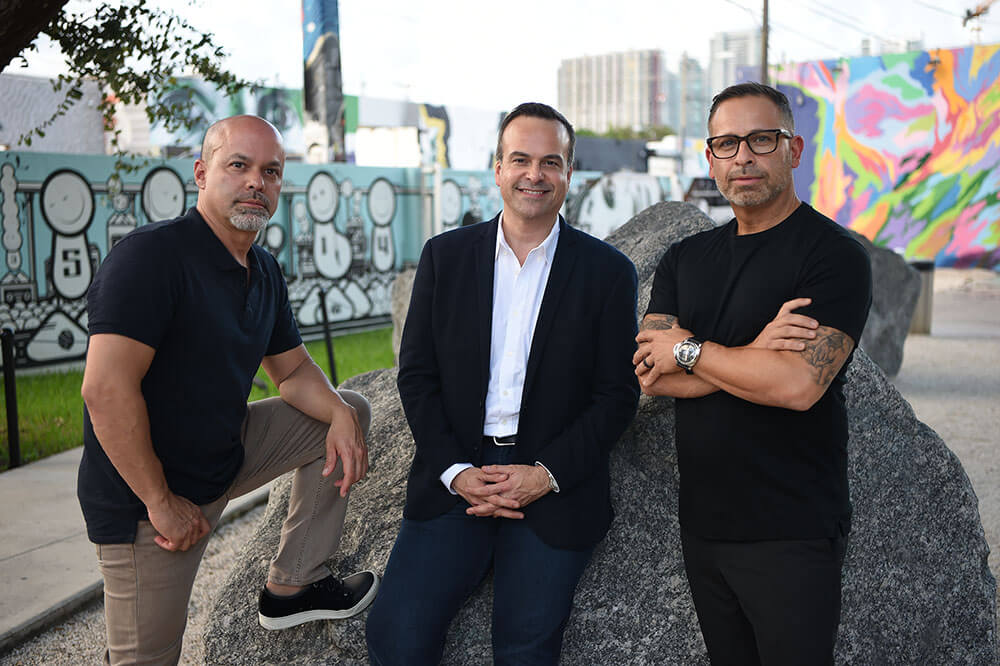 Luis Casamayor, Jorge A. Plasencia and Paul Marobella at Miami's Wynwood Walls.
Photo Credit: Seth Browarnik
Paris, September 13, 2018 — Havas Group announced today it has invested in Republica, the No. 1 independent multicultural agency in the U.S. Located in Miami, Florida, Republica was founded by Chairman & CEO Jorge A. Plasencia and President Luis Casamayor in 2006 to address the "seismic multicultural and digital revolution."
This press release features multimedia. View the full release here: https://www.businesswire.com/news/home/20180913005877/en/
Republica's team of 120 experts specializes in creating relevant, enduring connections across culture, language, and technology, providing strategy, creative, research, media planning and buying, analytics, consumer science, digital, public relations, social, and experiential for brands in the U.S. and around the globe. Today, the agency works with numerous brand partners including Walmart, Toyota, Google, Nielsen, Four Seasons Hotels and Resorts, Freixenet USA, Azamara Club Cruises, Baptist Health, NBCUniversal Telemundo, Adrienne Arsht, Universal Parks & Resorts, BankUnited, Sedano's Supermarkets, Miami Super Bowl 2020 and Goya Foods, among others.
The agency will be renamed Republica Havas and will remain headquartered in Miami, with expansion plans to other key U.S. markets including New York, Chicago and Los Angeles. Republica Havas will continue offering expert multicultural marketing intelligence, combined with the ability to leverage Havas' global integrated communications network as well as tap into parent company Vivendi's media and entertainment properties.
Republica Havas will continue to be led by Plasencia, Casamayor and their executive team, and sit under the direction of Paul Marobella, Chairman and CEO, Havas Creative, North America.
Yannick Bolloré, CEO Havas Group, said: "With multicultural consumers making up nearly 40 percent of the U.S. population and $3.4 trillion in spending [1] , the current American landscape is the most culturally diverse and technologically fluent in history.Multicultural marketing intelligence needs to be in every brand's DNA. Republica's industry-leading expertise further expands our multicultural capability and understanding. Miami is the right place to serve as our anchor."
"Our mission as a creative agency is to ignite the businesses of the brands we work with through cultural relevance. As such, it was important for us to find the best partner that doesn't just understand multicultural marketing but is embedded in the fabric of different cultural communities in America—Republica is that partner. Combining our integrated capabilities with Republica's fluency in multicultural values and preferences will allow our clients to connect to diverse audiences with authenticity and impact," added Paul Marobella, Chairman & CEO, Havas Creative North America.
Jorge A. Plasencia, Co-founder, Chairman & CEO of Republica, said: "Many suitors have approached us over the years, and although we always listened, it never felt right. That changed with Havas. The fact that Republica Havas now becomes the Group's leading multicultural offering in the U.S., coupled with the endless opportunities we will be able to offer both our clients and the members of the Republica family, joining forces now made perfect sense. This is the right partnership because it allows us to continue to do what we love, staying true to our culture and our people, while being able to offer our deep multicultural expertise to Havas' many agency partners. Luis and I are thrilled to join the Havas and greater Vivendi family on this new chapter of our journey; and we extend our gratitude to both our extraordinary team and our incredible client partners for believing in us."
Republica was recently ranked seventh on Ad Age's 2018 annual list of the top 50 U.S. Hispanic agencies, making the firm the No. 1 independent shop on the list. The agency has also recently garnered 56 top industry awards and accolades, including a Cannes Lions Shortlist, Clio, Spain's Festival El Sol, New York Festivals, Imagen Award and PRSA Bronze Anvil, among others.
About Republica Havas
Republica Havas is one of America's leading and fastest-growing multicultural advertising and communications agencies. Through its "Rethink Relevant" strategic mantra, Republica Havas provides integrated services including strategy, creative, research, media planning and buying, analytics and consumer science, digital, public relations, social, and experiential to numerous blue-chip clients in the U.S. and markets around the world. Founded in 2006 and based in Miami, Florida, Republica Havas is part of Havas Creative North America. For more information, visit republicahavas.com, and follow @RepublicaHavas and #RethinkRelevant on social media.
About Havas Group
Havas is one of the world's largest global communications groups. Founded in 1835 in Paris, the Group employs 20,000 people in over 100 countries. Since the end of 2017, Havas Group is fully integrated into Vivendi. Havas Group is committed to being the world's best company at creating meaningful connections between people and brands through creativity, media and innovation. Based on a client-centric model across media and creative, the Havas Group is the most integrated company in its sector. We operate with three business units (creative, media and healthcare & wellness) within our 52 Havas Villages all over the world where teams share the same premises ensuring agility and a seamless experience for clients. Further information about Havas Group is available on the company's website: www.havasgroup.com #MakeBrandsMeaningful
About Havas Creative North America
Havas Creative North America is a progressive creative agency network focused on being the most meaningful partner to the modern CMO. It offers a comprehensive mix of capabilities within three distinct networks; Havas, Arnold and The Annex, including creative, experience design, cognitive, data and technology as well as unique access to other Vivendi-owned properties. With agencies in NY, Chicago, Boston, Los Angeles, Atlanta, Miami and others, Havas Creative North America brings nearly 2,800 of the most talented people in the business. As the most modern, flexible and agile creative networking North America, Havas reinforces the following five key pillars in everything it does: creativity, culture, community, consumer experience and commerce. We are creators.We are data. We are social. We are ideas. For more information, visit havas.com or follow Havas on Twitter (@havas), Facebook (facebook.com/HavasCreative) and Instagram (@havas).
29-30 quai de Dion Bouton 92817 Puteaux Cedex, France
Tel +33 (0) 1 58 47 80 00 Fax +33 (0) 1 58 47 99 99
SA au capital de 169 222 321,20€ – 335 480 265 RCS Nanterre – APE 7311Z
www.havasgroup.com
Twitter: http://www.twitter.com/HavasGroup/
Facebook: http://www.facebook.com/HavasGroup
LinkedIn: http://www.linkedin.com/company/Havas
[1] Source: Nielsen
View source version on businesswire.com: https://www.businesswire.com/news/home/20180913005877/en/
SOURCE: Havas Group
Lorella GessaChief Communications Officer, Havas Group+33 (0)1 58 47 90 36 [email protected] 
@Lorella_Gessa
or
Delphine MailletDirector of Investor Relations, Havas Group+33 (0)1 58 47 92 42
[email protected]