At República we live our Latino culture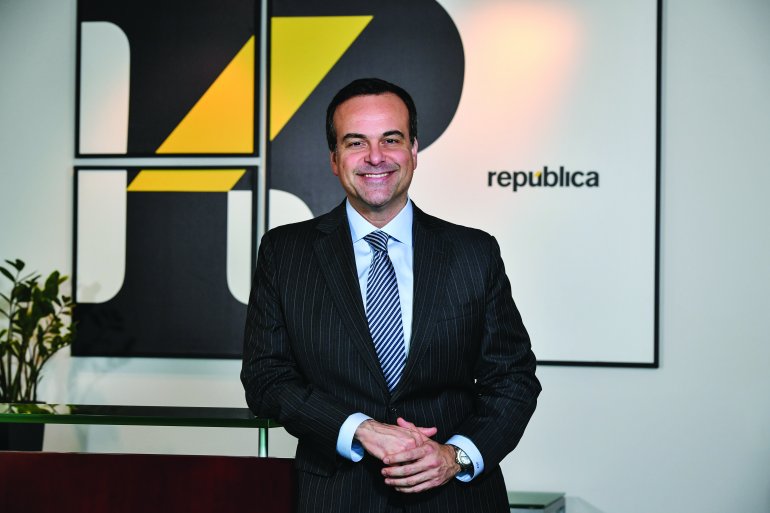 Jorge Plasencia, co-founder and CEO of one of the three largest independent multicultural agencies in the country, talks about his family's origins, reflects on his career and describes the nuances of the market where his agency started its journey ten years ago.
MIAMI.-  The will of determined immigrants and hard work are what make up the very foundation of Jorge Plasencia's career. From a very young age, he learned that personal effort is what leads to the fulfillment of one's goals, as well as the importance of not turning away from the suffering of others. That is why, despite his professional success, he thinks he still has a long way to go and feels the need to give back to Miami –the city where he was born and where his parents came from Cuba, to begin a new life.
From that same spirit República was born, and after ten years of existence, it is now one of the three largest multicultural independent advertising agencies in the United States.
Plasencia spoke with DIARIO LAS AMERICAS about the reason behind the agency's name, the pride he feels for his Latino roots, the social commitment that moves him and the infinite ideas that inspire his desires to create.
"Why República?"
When Luis Casamayor and I were thinking about what name to give this company, we wanted something that was meaningful, memorable and easy to pronounce in both English and Spanish. My father had passed away shortly before this. It was 2006; my father passed in 2004. I shared with Luis that my father had worked at Republic National Bank, where he helped many exiles start their own businesses from scratch. For many of today's big businesses in Miami and the U.S., this was the bank that gave them their first loan. Although they came to the U.S. with nothing but the clothes on their backs or "they did not have a dime," as the Cubans say, they were given these so-called handshake loans that helped them start their businesses.
The history
My father grew up in Pinar del Río, Cuba. He came from a tobacco family. My great-grandfather arrived in Cuba in 1865 from the Canary Islands. My family has an incredible history tied up to the tobacco industry; I currently have cousins in Nicaragua and Honduras who are still involved in the tobacco business. My father became a CPA, but he always loved advertising – he had a very creative mind and even authored a book.
From Cuba, he left for Venezuela, where he became an auditor for British Tobacco. In Cuba, he never worked in the family business, although until the day he died, he always said that although he was a banker, he knew more about tobacco than anything else.
From Venezuela he traveled to Miami, but could not get a job in banking, and so he went to Houston where he lived until 1968. While in Houston, he sent a letter to the president of Young & Rubicam, a major advertising agency in New York. He offered his services as a bilingual copywriter who could compose commercials in both languages. The president replied with a rejection letter dated June 1968, in which he thanked him, but said that he had no job for him.
After sharing the story with Luis, I asked him, "What if we use something like Republic or República?" We did a quick Google search and found out that there was nothing with that name in the U.S. and we decided to use it.
The name has a connotation of homage to my father, but it also means that Hispanics have been able to redefine a new Republic within the U.S. multicultural market.
Every time I'm here, when I'm having a difficult day at work, I think of him and ask him to help me keep going from wherever he is now, and I feel he is part of the soul of this place.
– What is República, how would you explain it to someone who is not familiar with the advertising business?
In the ten years since we started, the U.S. multicultural market has changed dramatically, especially in terms of communication. You, for example [DIARIO LAS AMERICAS] were [only] a newspaper and today you are a digital and print publication, everything has changed. We started in 2006, the same year as Twitter, the same year that Facebook came out of college campuses and became available to the general public. That's important because we did not struggle like other agencies trying to find our place in the digital world – we were part of it from day one. We were able to offer our clients social media and the purchase of digital media from the very first day, since November 13, 2006.
We are a consultancy. We work with global, national and regional brands and our job as consultants is to bring your brand to the public, to the youth, and to the not-so-young. I always say that it is a fascinating business because every client is different and that is the beauty of it. We represent clients in so many diverse sectors, and we really get to know each one of the different businesses, and we must keep confidentiality because we really get into the business: we want our clients to feel that without República, their business can't succeed. We want them to see us as a key piece of the puzzle. We are even interested in knowing how sales are doing, why a product sells more at one retail location than another, or which products are are the most successful. I always say that behind our business there is science to the art, because behind the work of our creatives there has to be science, research, surveys… we have to get to know the consumer deeply.
We develop brands, we build and carry out advertising campaigns, we are in charge of public relations, media plans, we organize events, in the U.S., in Latin America, in Miami.
– What is the most difficult task for a Hispanic company that works for Hispanics, in order to reach a market that continues to be mainly Caucasian?
Of the 300 million-plus people that live in the U.S., about 100 million are part of what we call the multicultural market. Of those, about 57 million are Hispanic; the rest are African American, Asian, or other ethnicities, or Caucasians married to someone from these minorities. These 100 million that make up the multicultural market are a tremendous opportunity for brands; you just have to be able to reach this segment. To reach us, you need to do it with cultural relevance, in a way that makes sense to us; although we are speaking in English, there are things that make us different, that a person who is completely Caucasian would never understand and vice versa. Understanding the consumer, seeing how they live daily, what they eat, what music they listen to, what they read, what they watch on television, even if it's a young boy, that boy lives one hundred percent between two worlds: in his American world, but also in his Hispanic world. What is the best way to reach that kind of consumer? That's the challenge for us, that's why we love what we do; because there are different ways to reach that same person.
– Why has someone like you, who was born in the US, chosen to stay within the cultural environment of your heritage?
I never thought of myself as to whether I was Hispanic or not. I grew up feeling very proud of being Cuban, of my roots, but I was born in Miami at a time where many people were like me. In my class at school, there were maybe four Caucasians, one African American, and an Asian boy.
When I was about 23 years old, two friends of mine, Joe Cardona and Mario de Varona, made a documentary called Café con Leche. It was fundamental for my generation. I was part of the group who participated in it, and we were between 23 to 30 years old. That's when we realized that we were different, not so much for the people here in Miami, but for the rest of the country because we were very much into our culture. I remember saying in the documentary that for me Café con Leche represents a mixture of cultures: the coffee is my Cuban side, the milk is my American side. That "mix" is who I am. There are so many people like me! Thanks to this documentary we realized that we are different and we have to celebrate it. My brother's generation, who is older, many times didn't feel that pride of being Latino because those were different times, they shunned their culture at times. My generation opened up to our Hispanic and Cuban culture, and I think that's wonderful.
– How was Amigos For Kids born?
When I was 8 or 9 years old, I was studying at a Catholic school, St. Patrick's. I used to do community service at different places, and we would visit the Children's Home Society a lot, where I remember seeing children ranging from babies to adolescents who had been mistreated by their parents or left there to be taken for adoption. This compelled me to do something to help those children. When I was 17 years old, together with four other people, we founded Amigos For Kids, which now is celebrating its 25th anniversary. It is very fulfilling that this organization today has its brand, its staff, its programs that day by day help the children of this community, and that is a national advocate against child abuse. It makes me very proud because when you start something, you don't always know how far you are going to get, you go out every day and do the best you can, and this is what I have done for Amigos For Kids. At the moment, Rosa Maria Plasencia is at the helm of Amigos; she and her staff do an incredible job for the children and families in need of this community.
I always say that in Miami, we live in a huge dichotomy: we have one of the most affluent zip codes in the country like Fisher Island, and one of the poorest, east of Little Havana. We are an incredibly cosmopolitan city, but also a city of many contrasts, where there is a tremendous need. This is the reason why there have to be organizations like Amigos For Kids to help these families and these children. I feel so immensely proud when I witness what this organization has become. Obviously, we have become who we are thanks to the help of many people, volunteers, and the media that have been with us through the years. In June this year, we will celebrate our very popular Amigos Domino Night fundraiser, and in November, we will host our Gala. I am glad that the tradition of Amigos for Kids is still alive. Following me as chairman came Pedro Capó, a member of the family that owns El Dorado Furniture; and just recently Nicole Valls of Valls Group, owners of famed Versailles restaurant, La Carreta and Casa Juancho restaurants, has been appointed. It is very nice to see that something that we started so small is now self-sufficient. Nicole is now bringing in a new group of people, full of energy. That's what is important, to continue reinventing this organization over the years so that future generations, God willing, can do well in their businesses and their lives, and can continue to give back to their community. I always stress that Miami has wonderful organizations that have been able to come together and do things for the community; examples are La Liga Contra el Cáncer and Amigos For Kids.
– What else is left for Jorge Plasencia to do?
I've been working tirelessly since my days as a radio assistant at age 14 at Radio Mambí. I started there not out of necessity, but because one day my father asked me if I wanted to work at a radio marathon. I loved the energy inside that station. I remember that I returned home, I told my father all about it, and my brother said, "If you liked it so much you should apply for an internship so you can learn more."
I came back one day, I asked for Armando Pérez-Roura (its director) to find out if he would see me, and it turns out he did not know me, but he did know my father.  I did not take advantage of my father's name to get a job. I went on my own, and I started out without getting paid. I'm telling you this because I believe that if you take your own steps, your own path begins to develop. I believe in hard work, honesty, and integrity. What else is left for me to do? Maybe I can do more to elevate our Hispanic community within the United States. What does that mean? I don't know, but do more, because there are so many incredible stories that I have been able to witness through my work – stories of successful people –  that we must boost at a content level. It's in my mind, there is much to be done. Often, we heard stories that are not so good, but it's important to talk about the good ones, too. It's something I would like to do, I don't know how, but it will happen one day.
– Do you see yourself in Cuba in the future?
I certainly long to be able to go to Cuba one day with my mother, but it would have to be a free Cuba. She has very strong childhood memories of what happened. I know she wants to return, but only on the day of freedom. I believe that personally, I am going to be able to go to back to Cuba and walk through those tobacco plantations, or go back to Havana, where my grandfather Nestor Machado from my maternal side lived, who had a business of soft drinks called Cawy. I'd like to be able to go back because that's where that spirit of hard work comes from –that spirit of entrepreneurship and struggle, comes from that generation. My great-grandfather came from the Canary Islands to Cuba in 1865. It was hard at first, but then he began working in the tobacco industry and went on to build an large enterprise that was later carried on by his sons and nephews. I think going back there and witnessing what the Valle de Viñales is, seeing what my mom's life was like in Havana and experiencing what Cuba is all about… I would love to do that one day.
– What do you value the most?
Honesty and mutual respect. Sometimes we may disagree, but we have to respect each other. Sometimes we might have different opinions, but we have to come to a common place to improve our work. Sometimes we present something to a customer that we believe is the best, and the customer doesn't agree, not because they don't like it, but because they lack a confirmation from the consumer. So the way we do it now is, thanks to the internet, we have methods to reach different groups and present different versions of the same ad to them, to find out which resonates better with the brand. We are doing this a lot. Also, another fundamental thing for me is to create a mutual trust to be able to carry out important things.
– What is your advice for DIARIO LAS AMERICAS in their 63rd anniversary?
Always keep its unique heritage alive: the legacy of serving the community, the truthfulness of telling what we are going through in Miami but in an independent way as it has always been. Let the public know that in Miami we do have independent mediums covering the social, political and business issues, but also that are offering content that might not exist without you. Don't lose your essence, but seek how to deliver it to the newer generations. I grew up with the newspaper because my parents got it delivered at home, and they forced us to write, read and speak in Spanish. That doesn't happen so much today, but you can contribute to the culture of the younger generations through digital media. That would be the best strategy.
By Iliana Lavastida, Osmin Martínez
Source: Diario Las Americas (Translation)