A message from the República Family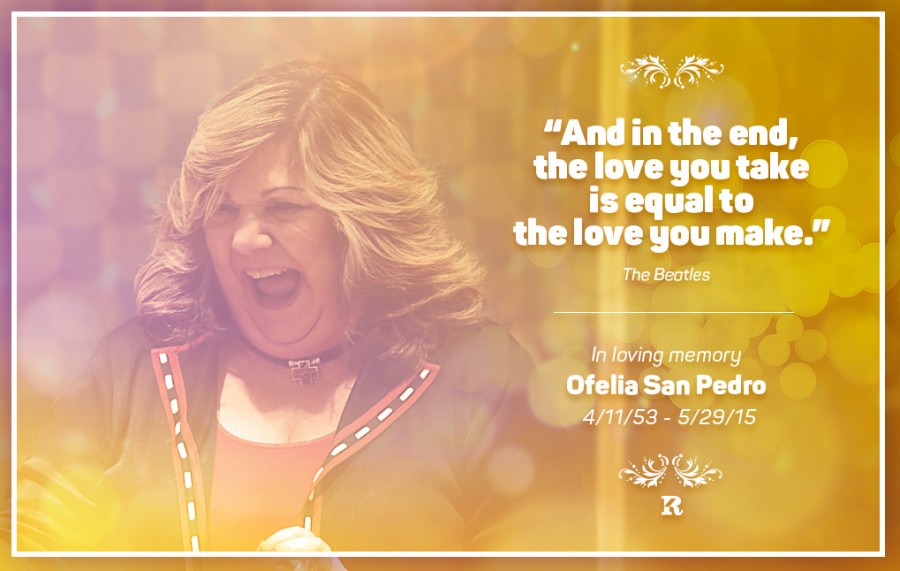 We are deeply saddened to share that our former executive vice president and chief financial officer, Ofelia San Pedro, passed away in the early morning of Friday, May 29, 2015. Ofelia was born in Havana, Cuba on April 11, 1953 and arrived to Miami as a Peter Pan child on October 30, 1961.
Ofelia, who stepped down from her duties with us in January 2015, had been courageously battling stage IV cancer for four years.
She was a trailblazing executive with more than 30 years experience in both the private and public sectors. An industrial engineer and certified public accountant, in addition to her most recent role since July 2012 with República, throughout her stellar and vast career she served as vice president of global procurement at Ryder System, president of Ryder Energy, deputy superintendent of business operations for Miami-Dade County Public Schools and as chief operating officer of Kaplan Virtual Education. She also completed the prestigious Broad Superintendents Academy. Earlier in her career, she was an adjunct professor of industrial engineering at the University of Miami.
Ofelia graduated from Miami Senior High School in 1971, and then went on to the University of Miami on a full scholarship. She graduated with a bachelor of science degree in industrial engineering. She then received an MBA in Finance also from UM.
She was very active in the South Florida community, serving on various boards, including the Miami Science Museum. For more than 20 years she greatly enjoyed volunteering for her favorite cause, Amigos For Kids. Over the years, she served the organization with passion and commitment as a board member, executive committee member, board secretary and program committee chair.
Ofelia, who was 62, is survived by her beloved family, including her husband of 29 years (and high school sweetheart) Miguel, their children Victoria and Miguel Jr., her stepdaughters Elizabeth, Lourdes and Michelle, step-grandchildren Kathleen and Johnny, sister Martha, brother Carlos, nieces Jenny, Cynthia and Melissa, and nephew Fernando. Her late father Carlos Martinez, was a business owner in Havana, and her late mother, Ofelia Uset, was a schoolteacher.
On Tuesday, June 2, 2015, the viewing will take place at Caballero Rivero Funeral Home located at 8200 Bird Road, Miami, Florida from 5:30 PM until 12:00 AM. On Wednesday, June 3 at 12:30 PM there will be a mass at St. Agatha Catholic Church, located at 1111 SW 107th Avenue, Miami, followed by burial at 2:15 PM at Woodlawn Park North Cemetery located at 3260 SW 8th Street, Miami, Florida.
To honor Ofelia's memory, the family appreciates flowers, or donations to "Amigos For Kids, an organization dear to our mother's heart." Donations may be made at www.amigosforkids.org/donate.
Those of us fortunate enough to have called Ofelia a close friend and colleague will forever remember her with great love, happiness and affection.
Rest in peace, Ofe. We love you.