República from Miami to the World
Now in its tenth year, national ad powerhouse república is still one of the fastest-growing companies in America. Its cofounders, Jorge Plasencia and Luis Casamayor, take a moment to reflect on the catapulted success of their digital-first creation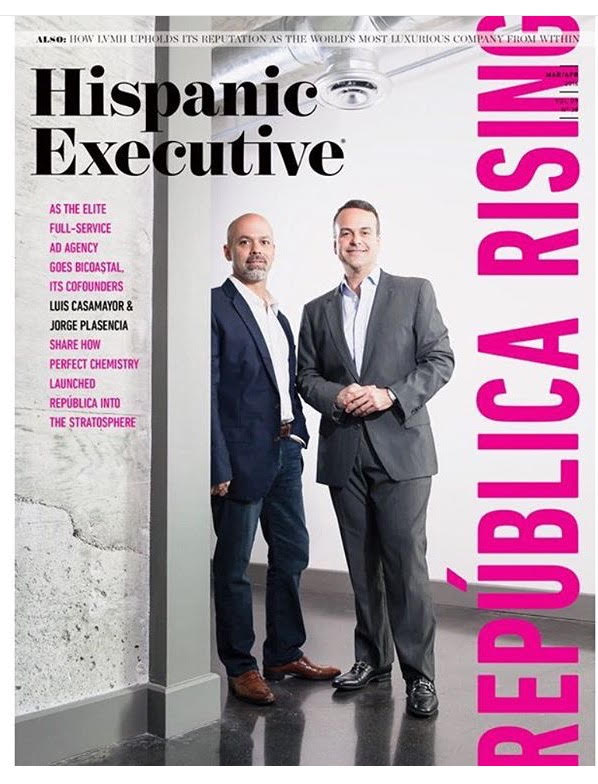 Fresh off being named one of the best places to work by PR News and being named the best agency using tech innovation and social media by LATISM, the independent, multicultural advertising and communications powerhouse República and its cofounders Jorge Plasencia and Luis Casamayor would be forgiven for resting on their laurels. But as their fast-growing agency turns 10 this year, Plasencia and Casamayor are as hungry as ever.
Founded the same year as Twitter, República—ranked for the fifth consecutive year on Inc. magazine's list of 5,000 fastest-growing companies—was digitally focused from day one, giving the full-service agency an edge on some of the bigger names in the industry.
"We started in the advent of the world we know today, this digital, social, connected world," Plasencia says. A large part of República's success can be attributed to the fact that their initial strategy to marketing was never split between digital or traditional media. "Digital has been in República's DNA since day one."
Plasencia and Casamayor describe how the idea of founding their own agency was conceived organically: the result of coffee-break conversations and brainstorming sessions. The two friends were working in different industries; Casamayor was running his own successful creative and design agency, Cosmyk, while Plasencia was an executive at Univision Radio.
Interested in bringing his agency to the next level, Casamayor would meet with Plasencia for friendly advice. The two Cuban Americans would get together during the workweek, and Plasencia would share operations advice with Casamayor, approaching ideas for his firm from the experience of a corporate executive. After numerous meet-ups and countless hours animatedly discussing strategy, the pair realized that with their different skill sets—Plasencia's corporate background in entertainment, sports, and media and Casamayor' experience running his own agency—the two were ideally suited to create an agency together.
"Miami is a microcosm of what America is becoming. It is one of America's most multi-cultural communities and a rare place where people from all walks of life and cultures successfully coexist."

Jorge Plasencia
"I really don't remember the exact moment," Casamayor says. "It just happened naturally."
After nearly a year of fleshing out their idea, they finalized a plan, and Plasencia informed Univision that he would be leaving with ample advance notice. He was a key executive at Univision Radio at that time and wanted to be sure he moved on in the right manner.
"They said, 'Hopefully we can work with República someday,'" Plasencia recalls. "It was great when they signed up as one of our early clients."
As two distinct individuals with complementary skill sets and backgrounds, Plasencia believes that Casamayor's "passion and drive for design and creative" and his "experience and background in marketing and media" were a big part of their success early on.
As a digitally focused, multicultural agency, as well as a leader in the diversity space, headquartering in Miami was a no-brainer decision for the pair.
"Miami is a microcosm of what America is becoming," says Plasencia, who, like Casamayor, is a Miami native. "It is one of America's most multicultural communities and a rare place where people from all walks of life and cultures successfully coexist."
"There is a lot of innate understanding of multiculturalism and Latino culture here, be it Cuban, Colombian, Mexican, Puerto Rican, Venezuelan," Plasencia continues. "Miami is like an empty canvas in many ways. It is just waiting for folks to come and start creating."
Committed to being an all-service agency from day one, República began with the conviction that the future was digital and social media.
"If you told a client early on to significantly invest in social media, posting content on Facebook and Twitter, they would've looked at you like you had three heads," Casamayor recalls. However, thanks to the recession in 2008, República was able to double down on their digital and social offerings, as clients were increasingly interested in efficient campaigns with measurable results.
"I think the financial downturn created the need for different ways to approach communication needs," Casamayor says. "So, it became wasteful to spend all this money on traditional media and hope for results, when digital provided a super targeted way to get those results. It quickly became more attractive."
The pair agrees that despite the difficulties that the media world was facing, the economic downturn helped the young agency grow and come out the other side with a strong yet nimble organization. Instead of focusing on cutting costs and reprioritizing, as the more established agencies were doing, República was focused on growing and delivering top-notch campaigns to their ever-growing list of clients.
"During the downturn, we tightened our belts and focused on growing the business," Plasencia says. "We were confident that investing and staying focused on the bigger picture would help us come out of that period much stronger. We also established solid relationships and deep partnerships with our clients. We never wanted clients to see us as a vendor; we wanted them to consider us a business partner."
In addition to a growing roster of award-winning advertising and PR campaigns for some of the country's top name brands, República has built a reputation of offering clients a suite of services that most traditional agencies haven't been able to provide. This includes building a practice that counsels companies from Fortune 500 to Silicon Valley startups on establishing diversity-and-inclusion strategies, including supplier-diversity initiatives. What began as smaller consulting projects for companies like Burger King and AARP more than eight years ago has now led the agency to be a leader in the D&I space. Nominated by client Google, República received the exclusive Corporate Plus designation from the National Minority Supplier Development Council in 2015.
The agency is finding this new revenue stream to be not only financially fruitful, but professionally satisfying as well.
"There is a mammoth opportunity right now, not only for us, but for the corporations we work with to leverage the power of the minority business community."

Luis Casamayor
"There is a mammoth opportunity right now, not only for us, but for the corporations we work with to leverage the power of the minority business community," Casamayor says. "When you want to invest and talk to a specific community, it is important that your company represents what that is internally."
Although Miami will always be home, República serves clients across the US and is planning on opening a West Coast office in the near future, due to growing client opportunities out there. The agency is excited to grow their presence in another rapidly growing multicultural market and build up their infrastructure out west.
Another milestone event for República this year will be the third annual eMerge Americas technology conference. An eMerge partner since its inception, the agency is more excited than ever for this year's event. Plasencia and Casamayor both feel that the conference has helped to position Miami as a major tech hub for the Americas. With featured speakers like Colin Powell and Tony Hawk, this year's event promises to be the largest yet.
"There's a tech and startup movement happening in Miami, and eMerge really propels that movement," Plasencia says.
República is living proof that the movement is gaining traction. "We walk the walk and talk the talk," Plasencia adds. Last year, República partnered with the Idea Center at Miami Dade College and the Knight Foundation to create "MarketHack," a digital-marketing educational program. In its second year, the program has become a major success and force within Miami's tech and marketing community.
Recently named the best marketing/PR firm using tech innovation and social media to reach Latinos by LATISM—the second year in the row that it has received this honor—República is making waves as a leader in cross-cultural communication, bridging the gap between big-name, innovative corporations and Latino culture.
"We feel we have the best people in the industry," Plasencia says, "and thanks to their talents, we've been able to create some amazing work for our clients and garner some major industry accolades."
That said, "Our biggest reward is the success of our clients," he adds.
Source: hispanicexecutive.com