REPUBLICA CELEBRATES 10 YEARS OF SUCCESS WITH "A SHOW OF #GRATITUDE"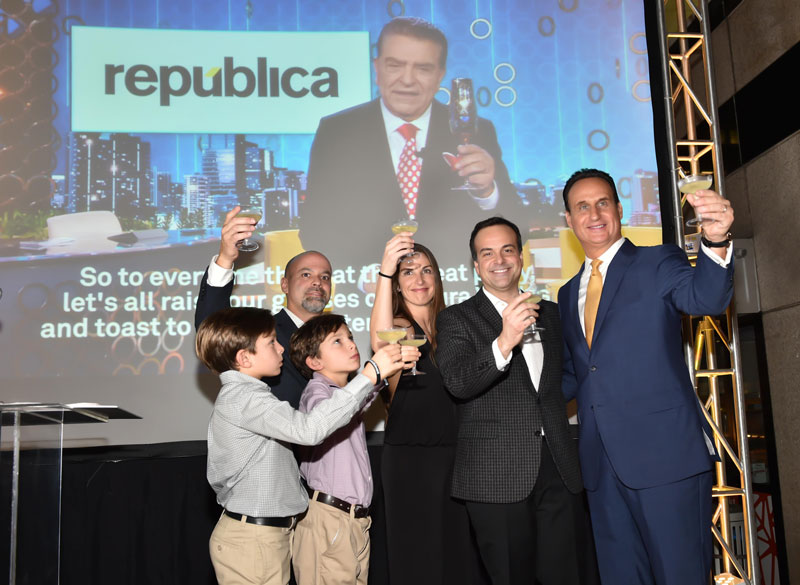 Fast-Growing Agency Marks Milestone After Being Named a "Small Agency of the Year" by Ad Age, and "Top Places to Work" for Second Year by PRNews
MIAMI – November 17, 2016 – Republica, one of America's leading and fastest-growing independent advertising and communications agencies, commemorated its 10th anniversary with a celebration themed "A Show of #Gratitude," highlighting the agency's 10-year journey, and paying tribute to its blue-chip clients and talented team members. The agency was founded on November 13, 2006 by former Univision executive, Jorge A. Plasencia, and former Cosmyk agency principal, Luis Casamayor.
Plasencia and Casamayor's vision was to establish a new kind of agency that would address the seismic multicultural shift that was starting to take place in America. Their challenge was to create an integrated communications firm that represented the cultural and digital revolution happening in the United States. Today, many of the world's top brands trust Republica as their partner to connect with the most culturally diverse, technologically advanced consumer base in American history.
Republica's 10th anniversary celebration was held at ZEST by Chef Cindy Hutson, downtown Miami's new culinary hotspot located in the expansive plaza of the Southeast Financial Center. Emceed by Jose Diaz-Balart, anchor of Noticias Telemundo and of NBC Nightly News Saturday Edition, the event drew more than 400 guests – many of whom flew into Miami for the occasion.
The evening's tributes included a fun, inspiring video produced by Republica's creative team that showcased the agency's journey, its familial culture and valued client partnerships. Plasencia and Casamayor spoke on their individual perspectives of the past 10 years and shared heartfelt words of appreciation. A special moment of the evening was when legendary TV icon, Mario Kreutzberger, who couldn't make the event due to the filming schedule of his new and already top-rated Telemundo show, Don Francisco Te Invita, appeared via video from his new set, from where he made an extremely moving toast to the Republica team and guests. Another highlight was when Ginette Magana, senior associate director of the Office of Public Engagement at The White House, read a letter from President Obama congratulating Republica on its 10th anniversary, and saluting the agency on "Stand Stronger," the award-winning pro bono, non-partisan public service citizenship campaign that Republica created for the White House and non-profit Civic Nation's Creative Alliance. This comprehensive campaign was designed to encourage the 8.8 million eligible lawful permanent residents to apply for and obtain U.S. citizenship.
"Luis and I are deeply humbled and proud to celebrate this 10th anniversary with our clients, team and our families and friends. This has been a roller coaster of a journey and we thank everyone who has come along for the ride," said Jorge A. Plasencia, co-founder, chairman & CEO. "Our seat belts are fastened as we look forward to the future and to the next decade of success for our clients, our company and our people," added co-founder and president Luis Casamayor.
Guests enjoyed a sensory overload with jaw-dropping contortionist performances, the popular sounds of band Cortadito and DJ Zaga, the exquisite cuisine of ZEST, delectable libations including Flor de Caña rum-infused "Republica Mules," craft beer by The Tank Brewing Company, and cava from Segura Viudas, which were complemented with cigars by Plasencia Cigars.